About Us
The Village is a Fish & Chips takeaway in Plymouth. Why don't you try our Bottle of Vinegar or Filling?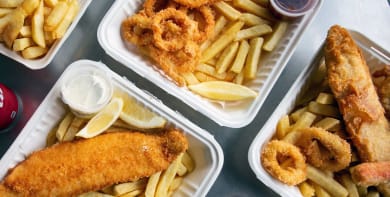 Reviews
1007 reviews
mark
"Amazing food all round, really enjoyed. Many thanks and Best onion rings ever tasted"
06/03/2021
Jessica
"Delivery driver was happy and polite over all happy with the meal and service will definitely order again"
06/03/2021
Karen
"Delicious fresh fish and chippys like batter tasty and delicious 7 stars from us"
05/03/2021
Paula
"Delicious"
02/03/2021
Menu
Creamy Mash 3 Sausages and Gravy
£5.75
Chocolate Chip Vanilla Milkshake
£3.73
Classic Quarter Beef Burger Regular
£3.39
Classic Quarter Beef Burger With Cheese
£3.68
The Village Burger
Quarter beef burger with crispy bacon cheese & burger relish
£4.54
The Big American Burger
Half beef burger with cheese, crispy bacon, onion rings & rich BBQ sauce
£5.69
The Tower Burger
Half beef burger, crispy bacon, cheese & hash brown
£5.69
Battered Beef Burger
No bun
£2.64
Chocolate Chunk Shortbread
£2.00
Sticky Chocolate Orange Cake
£2.87
Raspberry &nut Brownie
Contains Nuts and Gluten Free
£2.00
Cookies & Cream Cheesecake
£2.95
Filling, Coronation Chicken
Proper Cornish Pasty Medium
£3.16
Proper Cornish Pasty Large
£3.68
Thunder and Lightening - 100ml
£1.99
White Chocolate and Raspberry - 500ml
£5.99
Thunder and Lightening - 500ml
£5.99
Sea Salted Caramel - 100ml
£1.95
Chocolate Brownie - 500ml
£5.99
Creamy Mash 3 Sausages and Gravy
£5.75
The Side Box
Hallumi Fritters,Onion Rings,Battered Mushrooms, Sweet Potatoes Fries &BBQ Dip
£14.45
Snack Pack 1
Regular Chips,2 Small Sausages (Plain or Battered), Gravy & Any Can
£6.61
Snack Pack 2
Chicken Nuggets, Regular Chips,Small Sausage & Ketchup Dip
£6.61
The Fish Box
Small Cod, 3 Cajun Cod Bites, Regular Chips, Tartare Sauce or Garlic Mayo, &Small Mushy Peas or Curry Sauce with Any Can
£11.50
Family Deal
Large Chips, Large Spicy Potatoes, 2 Regular Cod, 8 Chicken Nuggets,2 Small Sausages, Gravy, Mushy Peas & BBQ Dip
£22.95
The Big Chicken Jack Stack
2x Sfc burgers, Monterey jack cheese, BBQ sauce
£8.30
Double Loaded Fries
SFC pieces, crispy bacon, cheese with BBQ or sweet chilli sauce
£8.30
Double Fish Dish
Small cod, scampi, chips, tartar sauce and lemon
£9.15
Vegetable Curry - With Jacket Potato
£5.46
Fritters Hallumi Fritters
£2.95
Southern Fried Chicken Fillets - 10 Pieces
£8.33
Cajun Fried Chicken Fillets - 10 Pieces
£8.33
Chicken Nuggets 08 Pieces
£3.39
Chicken Nuggets 20 Pieces
£6.03
Beef Chilli with Rice - Regular
£5.46
Beef Chilli with Chips - Regular
£5.46
Beef Chilli with Jacket Potato - Regular
£5.46
Chicken Curry With Jacket Potato
£5.46
1x Sfc
Southern fried chicken
£2.00
Bacon, Sausage & Egg Sandwich
£4.19
Bacon, Sausage & Egg Baguette
£4.37
Village Breakfast Sandwich
Bacon, sausage, fried egg, mushrooms & hash brown
£4.42
Village Breakfast Bap
Bacon, sausage, fried egg, mushrooms & hash brown
£4.42
Village Breakfast Baguette
Bacon, sausage, fried egg, mushrooms & hash brown
£4.60
Red Bull Energy Drink - 250ml
£1.99
Oasis summer fruits 500ml
£2.00
Southern Fried Classic Chicken Burger
Chicken breast fillet with mayo
£4.54
Southern Grilled Classic Chicken Burger
Chicken breast fillet with mayo
£4.54
The Chicken Club Burger
Southern fried chicken fillet rashers of crispy bacon & mayo
£5.69
The Southern Chicken Stack Burger
Fried chicken with crispy bacon, cheese & mayo
£6.03
The Cajun Chicken Stack Burger
Fried chicken with crispy bacon, cheese & mayo
£6.03
Halloumi Burger
Grilled slices of halloumi with spinach & a sweet chilli sauce in a brioche bun
£4.02
Veggie Burger
Big veggie pattie in a brioche bun with BBQ sauce
£4.02
The English
Fried Egg
Sausage
Bacon
Hash Brown
Toast
Beans or Plum Tomatoes
£6.60
The Vegetarian Fried
2 Eggs 
Baked Beans
Grilled Tomato
Mushrooms
2 Hash Browns
2 Slices of Toast
£6.60
The Vegetarian Scrambled
2 Eggs 
Baked Beans
Grilled Tomato
Mushrooms
2 Hash Browns
2 Slices of Toast
£6.60
Breakfast Baps Bacon or Sausage
£3.73
Breakfast Baps Bacon & Sausage
£4.30
Breakfast Baps The Village
£4.88
Extras Crusty Thick Toast
£0.86
Cold Drinks Bottled Water
£1.15
Cold Drinks Simply Fruity
£1.15
Calamari Rings
Calamari Rings with a Garlic
£3.68
Seafood Platter
• 3 Cod fillet bites
• 4 Scampi
• 2 Prawns
• 5 Calamari
£5.69
Loaded Fries with Bacon Cheese and BBQ Sauce
£6.84
Loaded Fries with Southern Fried Chicken
Loaded fries with southern fried chicken with cheese and sweet chilli sauce
£6.84
Kids Cod Fillet Bites (3)
£4.54
Kids Southern Fried Chicken Fillets (3)
£4.54
Chocolate Bar Shake Maltesers
£3.39
Chocolate Bar Shake Mars Bar
£3.39
Chocolate Bar Shake Mint Aero
£3.39
Creme Egg Chocolate Shake
£3.73
Contact Us
Find Us
Morshead Road, Plymouth, PL65AD
We deliver to
PL2, PL3, PL5, PL6