About Us
The Village is a Fish & Chips takeaway in Plymouth. Why don't you try our Bottle of Vinegar or Filling?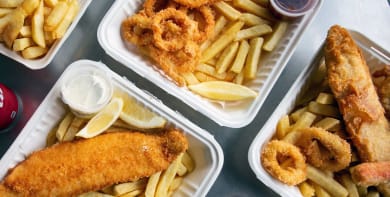 Reviews
630 reviews
Jennifer
"First time ordering from you. Arrived on time, piping hot & kids loved it ! Thank you"
26/05/2020
Liam
"Food was really good, only issue was ordered salad in burger but didn't receive but all in all lovely food"
17/05/2020
Stephen
"The food was amazing and the delivery was on time we will ordering again from the village."
16/05/2020
tracey
"Food was delicious, lovely and hot. Delivery was a little later then stated but would definitely order again"
15/05/2020
Menu
Chocolate Chip Vanilla Milkshake
£3.25
Classic Quarter Beef Burger Regular
£2.95
Classic Quarter Beef Burger With Cheese
£3.20
The Village Burger
Quarter beef burger with crispy bacon cheese & burger relish
£3.95
The Big American Burger
Half beef burger with cheese, crispy bacon, onion rings & rich BBQ sauce
£4.95
The Tower Burger
Half beef burger, crispy bacon, cheese & hash brown
£4.95
The Beefy Beaner Burger
Quarter beef burger with spicy bean fritter & cheese
£4.95
Battered Beef Burger
No bun
£2.30
Chocolate Chunk Shortbread
£1.75
Sticky Caramel Apple Cake
£1.95
Treacle Toffee Apple Muffin
£1.95
Filling, Coronation Chicken
Proper Cornish Pasty Medium
£2.75
Proper Cornish Pasty Large
£3.20
Thunder and Lightening - 100ml
£1.95
Salted Caramel Brownie - 500ml
£5.99
White Chocolate and Raspberry - 500ml
£5.99
Blackcurrant and Cream - 500ml
£5.99
Raspberry and Cream - 500ml
£5.95
Thunder and Lightening - 500ml
£5.95
Family Meal Deal
• 2 Large chips
• 10 Cod fillet bites
• 10 Chicken nuggets
• 4 Small sausages
• 2 Dips
• Large bottle drink
£19.95
Snack Box
• Regular chips
• Small cod
• Small sausage
• Small curry sauce/mushy peas
• Can or bottle of water
£7.25
Fritters Cajun Baked Bean
£1.75
Vegetable Curry - With Jacket Potato
£4.75
Southern Fried Chicken Fillets 05 Pieces
£3.95
Southern Fried Chicken Fillets 10 Pieces
£7.25
Cajun Fried Chicken Fillets 05 Pieces
£3.95
Cajun Fried Chicken Fillets 10 Pieces
£7.25
Chicken Nuggets 08 Pieces
£2.95
Chicken Nuggets 20 Pieces
£5.25
Beef Chilli with Chips Regular
£4.75
Beef Chilli with Chips With Cheese
£5.75
Beef Chilli with Jacket Potato Regular
£4.75
Beef Chilli with Jacket Potato With Cheese
£5.75
Chicken Curry With Jacket Potato
£4.75
Bacon, Sausage & Egg Sandwich
£3.65
Bacon, Sausage & Egg Baguette
£3.80
Village Breakfast Sandwich
Bacon, sausage, fried egg, mushrooms & hash brown
£3.85
Village Breakfast Bap
Bacon, sausage, fried egg, mushrooms & hash brown
£3.85
Village Breakfast Baguette
Bacon, sausage, fried egg, mushrooms & hash brown
£4.00
Southern Fried Classic Chicken Burger
Chicken breast fillet with mayo
£3.95
Southern Grilled Classic Chicken Burger
Chicken breast fillet with mayo
£3.95
The Chicken Club Burger
Southern fried chicken fillet rashers of crispy bacon & mayo
£4.95
The Southern Chicken Stack Burger
Fried chicken with crispy bacon, cheese & mayo
£5.25
The Cajun Chicken Stack Burger
Fried chicken with crispy bacon, cheese & mayo
£5.25
Fried Cajun Chicken Burger
Spicy chicken fillet with garlic mayo
£3.95
Grilled Cajun Chicken Burger
Spicy chicken fillet with garlic mayo
£3.95
Grilled Chicken Burger
A chicken fillet grilled in a bun
£3.95
Halloumi Burger
Grilled slices of halloumi with spinach & a sweet chilli sauce in a brioche bun
£3.50
Veggie Burger
Big veggie pattie in a brioche bun with BBQ sauce
£3.50
The Village
2 Fried Egg
2 Sausages
Bacon
Hash Brown
Mushrooms
Bean
Tomato & Toast
£7.50
The English
Fried Egg
Sausage
Bacon
Hash Brown
Toast
Beans or Plum Tomatoes
£5.75
The Early Riser
2 Scrambled Eggs
2 Bacon
2 Sausages
Beans & Toast
£6.50
The Bubble
Bubble & Squeak
2 Fried Eggs
2 Bacon
2 Sausages & Beans
£6.75
The Vegetarian Fried
2 Eggs 
Baked Beans
Grilled Tomato
Mushrooms
2 Hash Browns
2 Slices of Toast
£5.75
The Vegetarian Scrambled
2 Eggs 
Baked Beans
Grilled Tomato
Mushrooms
2 Hash Browns
2 Slices of Toast
£5.75
The Hangover
2 Fried Eggs
2 Sausages
2 Bacon
Hogs Pudding
Fried Bread
2 Hash Browns
Baked Beans & Plum Tomatoes
£8.50
Breakfast Baps Bacon or Sausage
£3.25
Breakfast Baps Bacon & Sausage
£3.75
Breakfast Baps The Village
£4.25
Crusty Sandwiches Bacon or Sausage
£3.25
Crusty Sandwiches Bacon & Sausage
£3.75
Crusty Sandwiches The Village
£4.25
Extras Crusty Thick Toast
£0.75
Cold Drinks Bottled Water
£1.00
Cold Drinks Simply Fruity
£1.00
Calamari Rings with a Garlic Mayo Dip
£3.20
The Village Seafood Platter
• 3 Cod fillet bites
• 4 Scampi
• 2 Prawns
• 5 Calamari
£4.95
Loaded Fries with Bacon Cheese and BBQ Sauce
£5.95
Loaded Fries with Southern Fried Chicken
Loaded fries with southern fried chicken with cheese and sweet chilli sauce
£5.95
Kids Cod Fillet Bites (3)
£3.95
Kids Southern Fried Chicken Fillets (3)
£3.95
Chocolate Bar Shake Maltesers
£2.95
Chocolate Bar Shake Mars Bar
£2.95
Chocolate Bar Shake Mint Aero
£2.95
Contact Us
Find Us
Morshead Road, Plymouth, PL65AD
We deliver to
PL1, PL2, PL3, PL4, PL5, PL6